About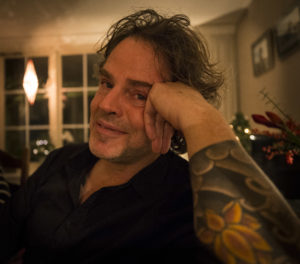 David van der Heijden – Composer
David's first original score is for the dutch film 'Wild Mussels'. Together with director Erik de Bruyn, he also selects the songs used in the film, making it a very diverse soundtrack. 'Wild Mussels' received the Dutch Film Critics Award for Best Film in 2000, and has since developed a real cult status.
Since then, he has composed scores for many feature films, shorts, documentaries, commercials and TV series, in the Netherlands and internationally.
Using different musical styles, combining either traditional and electronic instruments, he seeks the best way to bring across the feel of the movie, and the message of the director. This can lead to a minimal score with just one guitar, a piano, a triangle, or result in lavish orchestral works. David can work alone, or team up with the best musicians. Nevertheless his signature always shines through.
Filmography
2000 Wild Mussels / Erik de Bruyn
Feature film (Best film, Dutch Film Critics Award)
2002 Erwtje / Sylvia Holstijn
Children's televisions series (Prix Jeunesse)
2002 The Chinese Wall / Sytske Kok
Short (Best film International Film Festival Berlin / Public's Award International Film Festival Lyon, Lausanne, Ankara and Sao Paulo)
2002 Nachtbijter / Chris Mitchell
Short
2003 Jigsaw / Chris Mitchell
Short
2004 The Dunning brothers /Juul Bovenberg
Documentary
2005 Deep / Simone van Dusseldorp
Feature film (Best film IFF Tout Ecran Genève)
2005 Springsong / Erik de Bruyn
Short
2005 Tippe / Martine Nijhoff
Children's television series
2006 Anderman / Jaap van Heusden
Documentary
2006 De Getuige / Erik de Bruyn
Short
2006 Birthday Boy / Chris Mitchell
Short
2007 Nadine / Erik de Bruyn
Feature film
2008 Here I am / Jessie van Vreden
Documentary
2008 Firuze / Hilt Lochten
Short
2009 Until There's A Cure, a short history of the AIDS epidemic /Pierre Peyrot
Documentary
2010 Deadly Dilemma /Juul Bovenberg
Documentary
2010 Silencing the press / Pierre Peyrot
Documentary
2011 BV Het gezin / Juul Bovenberg
Documentary
2012 Aldus Libelle / Juul Bovenberg
Documentary
2013 Ashodaya / Pierre Peyrot
Documentary
2014 Smeris (Force) Season 1 / various directors
Police series 10 episodes
2015 Smeris (Force) Season 2 / various directors
Police series 10 episodes
2015 Paradise Trips / Raf Reyntjens
Feature film Winner of 3 Flemish Film Awards (Best Actor, Best Costume, Industry Award)
Flemish Youth Prize: Best Flemish Film 2015
2016 Hope / Erik de Bruyn / TV film
2016 Smeris (Force) Season 3 / various directors
Police series 10 episodes
2016 Les Missionnaires des Chin Hills /Pierre Peyrot /  Documentaire de 52min sur les Missionnaires des Chin Hills
2017 Silk Road / Mark de Cloe TV film (nominated best music Milano International Film Festival)
2017 Voetbalmaffia (Match fixing)  directors Mark de Cloe and Iván López Núñez
Drama / thriller series about matchfixing in football  8 episodes
2018 Smeris (Force) Season  directors Marc Willard and Jeroen van Koningsbrugge
Police series 10 episodes
2018 De Jongerenrechtbank / Juul Bovenberg / Short documentary for Zapp
2018 Homo Sentient AI /Soundscape for Petra Ardai's audio installation for the Robot Love exhibition.
2019 Safe Zone/Soundscape for Hilde Tuinstra's street theatre performance
2020 Smeris (Force) Season 5 / various directors
Police series 3 episodes
2020 solo album: 'The Butterfly and the Whale' by The Butterfly and the Whale
2021 music for the ESOT (European Society for Organ Transplantation) Congress 2021 in Milan
2021 solo album: 'Let her fly, let her dream' by The Butterfly and the Whale
2023 solo album: 'Reaching For The Star' by The Butterfly and the Whale
2023 music for the ESOT (European Society for Organ Transplantation) Congress 2023 in Athens
And commercials for (a.o.):
Delta Loyd
BlueBand
Rama
Milda
Andrelon
Vifit
UPC
Johma
Krasloten
Simpel
TUC